Villages at Bocage Homes
Villages at Bocage is a beautiful, newly constructed subdivision located along Highway 22 northwest of Guste Island in Madisonville, LA. The neighborhood is conveniently located in between the city centers of Ponchatoula and Madisonville. This location allows residents to be within a 10 minute drive to local restaurants, shopping, and grocery stores. A drive of 20 minutes puts homeowners in bigger nearby cities like Mandeville, Covington, and Hammond. Residents live within the boundaries of an award winning school district, so parents can be confident that their students are learning from the best teachers in Louisiana. Many of the homes in the neighborhood are very new, so homeowners feel secure purchasing homes with very limited maintenance required. Most homes are move in ready! Homeowners enjoy plenty of great amenities like green space, large ponds, and a park with a ball field & baseball backstop. Villages at Bocage is governed by restrictive deeds and covenants to uphold the value of real estate and create a standard of integrity for all homeowners.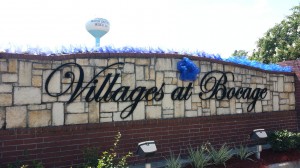 Madisonville, LA Real Estate
Tribute Real Estate offers both buyer and seller representation for those needing assistance in buying or selling a home in Villages at Bocage.
Children and teenagers of Villages at Bocage belong in St. Tammany Parish School Board. If parents want their students to enroll in public school, children would attend Madisonville Elementary for K-1st grade. Lancaster Elementary is the next school for 2nd-5th. Madisonville Junior High is a great school as they integrate 6th graders with 7th and 8th graders. Other public junior high schools in the area don't include 6th grade. Teenagers complete their public education journey at Mandeville High school for all students entering 9th-12th grade. If parents want their students to be enrolled in private elementary schools, parents can select  from choices like Lake Castle, Christ Episcopal, Cedarwood, Mary Queen of Peace, Northlake Christian, and more. Private high schools are a very popular option as well for homeowners. Parents have the option of choosing between Northlake Christian, St. Paul's, or St. Scholastica Academy.
The location of Villages at Bocage allows homeowners to enjoy short drives to nearby shopping and great local restaurants. With Madisonville only 4 miles from the entrance of the subdivision, homeowners can enjoy delicious, local food at Morton's Seafood Restaurant, Friends Coastal Restaurant, or Keith Young's Steakhouse. Abita Roasting Co is also a great place to enjoy coffee and cafe style foods while overlooking the Tchefuncte River. In Covington, 6 miles away, there is great retail shopping with Target, Academy Sports & Outdoors, and Best Buy.
Villages at Bocage is a great subdivision to consider when searching for homes for sale in Madisonville, LA. These newly developed homes are great for any season of life. The subdivision provides great amenities for homeowners like green space, ponds, a large ball field, and a thriving community life. The location of the neighborhood puts residents only 10 minutes away from shopping & local restaurants and only 20 minutes from bigger cities like Mandeville, Covington, and Hammond.