Victorian Oaks Homes
Victorian Oaks is a small, beautiful subdivision located along Sharp Road across the street from Rosedown in Mandeville, LA. The neighborhood consists of only one street and just over of 20 homes. Homeowners live within the boundaries of award winning schools, so students gain an education from some of the best teachers in Louisiana. Victorian Oaks provides homeowners with green space with majestic trees,a pond, a park, updated signage, and a beautifully landscaped entrance. Residents enjoy short drives to nearby shops, restaurants, and highways. Victorian Oaks protects the value of real estate by implementing restrictive covenants and deeds to achieve a standard of quality and expectations for all homeowners.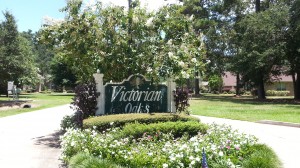 Mandeville, LA Real Estate
Tribute Real Estate offers both buyer and seller representation for those needing assistance in buying or selling a home in Victorian Oaks.
Victorian Oaks students who attend public schools live in the Fountainebleau High School district. This school district has won many awards for academic achievement and has nationally recognized Blue Ribbon schools. Students who are entering K-3rd grades attend Mandeville Elementary School. Lake Harbor Middle School is for those entering 4th-6th grades. Fountainebleau Jr. High and Fountainebleau High School are wonderful schools for teens entering 7th-12th grade, and they are located right next to each other. Despite having the best public education nearby, still many parents choose to enroll their students in private schools like Northlake Christian (pre-K-12th, co-ed), St. Paul's (all boys), St. Scholastica Academy (all girls), Mary Queen of Peace (pre-K-7th co-ed), Lake Castle (pre-K-8th, co-ed), and more.
Victorian Oaks' location along Sharp Road is very desirable due to its nearness to public schools, local restaurants, highways and great retail shopping, where both national brands and small businesses thrive. Mandeville's thriving economy is credited to the presence of many large retailers like Whole Foods, Bed Bath & Beyond, Barnes & Noble, and Banana Republic paired with plenty of small, local boutiques and shops along with the amount of dispensable income for many homeowners. Due to Mandeville's nearness to New Orleans (35 miles), delicious, local restaurants like N'Tini's, Megumi Sushi, Fazzio's Restaurant, and Nuvalari's are easy to come by. The subdivision is not far from major highways like Hwy 59, Hwy 190, The Causeway Bridge, and I-12. The Causeway Bridge is the main means of transportation to New Orleans across Lake Pontchartrain for many commuters and the location of the neighborhood makes it easy for homeowners to make the commute.
Victorian Oaks is a wonderful, small neighborhood to consider when looking for homes for sale in Mandeville, LA. The neighborhood is small and boasts a thriving community of people. The subdivision has dedicated green space, a park, and a pond for residents to take in all the beauty of living in Mandeville. Residents belong to an award winning school district, so students receive the best public education in Louisiana. The neighborhood is centrally located and very close to schools and desirable destinations. Residents can rest assured knowing that their real estate investment is protected by covenants and deeds that prohibit certain actions to preserve a standard of quality.