Versailles Estates is a new neighborhood located between Three Rivers Road and Highway 190 on the opposite side of I-12 from River Oaks Estates in Covington, LA. There are two parts of the subdivision: Versailles and Versailles Estates. The two parts are connected by a road in between. Versailles Estates entrance is accessible by Three Rivers Road, and Versailles is accessible by Highway 190 via Holiday Blvd. The neighborhood is in a great location as it is close to nearby restaurants, shops, and attractions. Versailles homeowners also belong to an award winning public school district. The subdivision is governed by uniform restrictive covenants to uphold the quality and integrity of the neighborhood.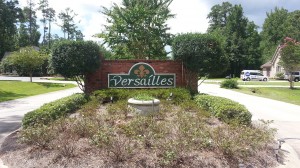 Covington, LA Real Estate
Tribute Real Estate offers both buyer and seller representation for those needing assistance in buying or selling a home in Versailles Estates.
The subdivision is surrounded by great restaurants, attractions, and easy access to major roadways. One of the newest attractions nearby is the Movie Tavern, where you can eat, drink, and enjoy a movie in a nice stadium style recliner. Great restaurants nearby include Copelands, The Dakota, and Osaka West. Walmart is a mile away from the entrance of the neighborhood. The subdivision is also very close to major roadways. Residents can very easily and quickly access I-12 and Highway 190.
Versailles' younger residents who attend public schools belong to the school district that feeds into Fontainebleau High School. Parents send their kids off to Marigny Elementary School for k-1st grade and Magnolia Trace for 2nd-3rd. Once through with elementary school, students attend Lake Harbor Middle for 4th-6th grade. Students entering 7th and 8th grade then enroll in Fountainebleau Jr. High, and eventually Fountainebleau High School for 9th-12th grade.  The Mandeville public school districts provide the best public education in Louisiana. For private Mandeville/Covington schools, parents have the option to send their students to Northlake Christian, St. Paul's, St. Scholastica Academy, Cedarwood, Mary Queen of Peace, Lake Castle, and more.
Versailles and Versailles Estates are great to consider when looking for homes for sale in Covington. This new neighborhood is situated in a great location that allows for homeowners to quickly access local restaurants, retail stores, and major roadways for easy commutes. The school district provides one of the best public educations you can get in the state. Homes within Versailles Estates are new and very nice. There are deeds and covenants in place to make sure the quality of the neighborhood remains.