The Reserve Homes
The Reserve and The Estates at the Reserve are premier neighborhoods in Mandeville located along Lonesome Road just north of Greenleaves. The subdivision was established in 1999 and now includes over 185 homes.  Residents enjoy amenities like a community pool, cabana, and a gated entrance.  The Reserve entrance is within a mile of Mandeville's main retail hub, so homeowners enjoy short commutes to local restaurants and shops, like Whole Foods, Barnes & Noble, and N'Tini's. Residents belong to an award winning school district, so students receive the best public education in Louisiana. The Reserve is governed by restrictive covenants and deeds in order to uphold the value of real estate and integrity of residents.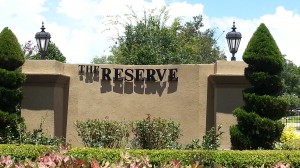 Mandeville, LA Real Estate
Tribute Real Estate offers both buyer and seller representation for those needing assistance in buying or selling a home in The Reserve.
The Children and teenagers of The Reserve live in the Mandeville School District feeding into Fountainebleau High School. For parents that want a public school education, parents enroll their students in Mandeville Elementary School for k-3rd grade. After elementary school, students attend Lake Harbor Middle School for 4th-6th grade. Students who are entering grades 7 and 8 would attend Fountainebleau Jr. High, and Fountainebleau High School for 9th-12th grade.  The Mandeville public school districts pride themselves in providing one of the best public educations students can receive in Louisiana. For private schools in the area, parents have the opportunity to enroll their academic achievers into Northlake Christian, which teaches preK-12th grade, St. Paul's, which is an all boys school teaching 8th-12th grade, St. Scholastica Academy, the all girls school equivalent, Mary Queen of Peace, which teaches preK-7th grade, Lake Castle, which teaches preK-8th grade, and more.
The Reserve and Reserve Estates is in an amazing location due to its proximity to schools, local restaurants, important roadways, and retail shopping. As Mandeville's economy continues to boom, residents enjoy shopping at Whole Foods, American Eagle, and Gap as well as numerous small, local boutiques and shops. With Mandeville's proximity to New Orleans, 35 miles, you are sure to find several tasty, local restaurants in the area like Rips on the Lake, N'Tini's, Mattina Bella, Fazzio's Restaurant, Broken Egg Cafe, and Liz's Where Y'at. Lonesome Road pours out onto Hwy 59 and Hwy 190, so homeowners enjoy short drives to the Causeway Bridge and I-12.
When looking for homes for sale in Mandeville, The Reserve is a great place to consider. The convenience and proximity to surrounding stores, restaurants, and major highways is incredible. The subdivision boasts wonderful amenities like a community pool, cabana area, green space, gated entryway, and peace of mind feeling secure and private. The homes in The Reserve are beautiful and the quality of living is high as the subdivision is governed by restrictive covenants to uphold the quality and integrity of the neighborhood.