Pontchartrain Oaks Estates Homes
Pontchartrain Oaks Estates is a new real estate development located just off of Highway 22 across the street from Black River Forest in Madisonville, LA. The subdivision is accessible from Koepp Road and Highline Road. The neighborhood currently consists of only one street and only a few custom built houses. There are plenty of lots for sale available for potential home builders. This real estate is great as it is located in an award winning school district and provides homeowners with short drives to amazing, local restaurants and retail shopping. The location is only a few minutes from the quaint boating town of Madisonville, which sits on the west bank of the Tchefuncte River, and the more commercialized city of Covington. Homeowners are protected by restrictive covenants and deeds that were established to preserve the value of real estate and keep residents accountable to a standard of integrity.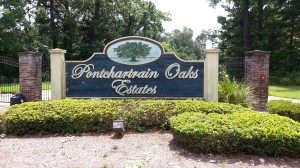 Madisonville, LA Real Estate
Tribute Real Estate offers both buyer and seller representation for those needing assistance in buying or selling a home in Pontchartrain Oaks Estates.
Students of Pontchartrain Oaks Estates belong to the Madisonville school district that feeds into Mandeville High School. Students in Kindergarten and 1st grade would first attend Madisonville Elementary. Then, students transfer over to Lancaster Elementary for 2nd-5th graders. Students in 6th-8th grade attend Madisonville Junior High, which is located in Madisonville Proper. Finally, students complete their public education at Mandeville High school for 9th-12th grade. For private schooling, parents have several great options like Lake Castle, Christ Episcopal, Cedarwood, Mary Queen of Peace, Northlake Christian, Northlake Christian, St. Paul's, or St. Scholastica Academy.
The location of the subdivision is a wonderful aspect of living in Pontchartrain Oaks Estates. The neighborhood is off of hwy 22 and only accessible by a feeder street, so homeowners experience seclusion, privacy, and peaceful settings without the noise of traffic and commerce. The subdivision, however, is only a little over 2.5 miles from the center of the charming, boating town of Madisonville. The area is home to amazing waterfront restaurants like Morton's Seafood Restaurant, Abita Roasting Co, and Friends' Coastal Restaurant. Covington, which is less than 5 miles away has plenty of retail shopping such as Sam's Club, Target, Academy Sports & Outdoors, and many more. Highway 22 and Highway 21 are the main roadways used by residents to access I-12 and The Causeway Bridge.
If you are looking for a place to purchase a lot and build your dream home, Pontchartrain Oaks Estates should be considered as it is in a great location in an award winning school district. Homeowners enjoy seclusion and privacy with an entrance located off of a main highway and not many homes built in the neighborhood. Residents are only minutes away from shops and restaurants in Madisonville and Covington. The value of your real estate investment is protected through restrictive deeds and covenants.