Montgomery Terrace Homes
Montgomery Terrace is a wonderful neighborhood located along Highway 22 just west of Guste Island in Madisonville, LA. The neighborhood is a relatively new development with construction beginning around 2008. The subdivision now consists of approximately 70 single family homes. These homes are situated on standard size lots with large backyards. Montgomery Terrace provides homeowners with wonderful amenities like green space, a beautifully landscaped entrance, updated signage, and a pond. Residents belong to a top tier public school district that has won awards for academics. The location puts homeowners very near to the cities of Madisonville and Covington, where commercial retail stores and restaurants are plentiful. When you purchase a home in Montgomery Terrace, your real estate value is protected by restrictive deeds and covenants.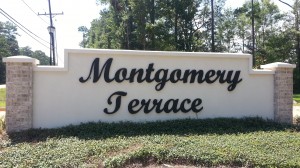 Madisonville, LA Real Estate
Tribute Real Estate offers both buyer and seller representation for those needing assistance in buying or selling a home in Montgomery Terrace.
Student residents of Montgomery Terrace live in the Madisonville school district that feeds into Mandeville High School. Students in this prestigious school district first attend Madisonville Elementary for K-1st. Lancaster Elementary is the next for 2nd-5th graders. Students then travel over Madisonville Junior High for 6th-8th grade. Once junior high is completed, students finish their education at Mandeville High school for 9th-12th grade. Though this school district has won awards for academics, many families still choose to enroll their students in private schools like Lake Castle, Christ Episcopal, Cedarwood, Mary Queen of Peace, Northlake Christian, St. Paul's, or St. Scholastica Academy.
Montgomery Terrace's location is great for residents because they enjoy short drives to nearby retail shops and local restaurants. The location is near both Madisonville and Covington. In Madisonville, residents enjoy eating delicious, local food at Keith Young's Steakhouse, Friends' Coastal Restaurant, and Morton's Boiled Seafood & Bar. Homeowners also enjoy coffee and cafe style food along the Tchefuncte Riverfront at Abita Roasting Co. In Covington, there are several commercial real estate developments with retailers like Sam's Club, Target, and Academy Sports & Outdoors. I-12 and the Causeway Bridge are easily accessible by hwy 22 and hwy 21.
When you are looking for homes for sale in Madisonville, you should consider searching for homes in Montgomery Trace. These single family homes are affordable, relatively new, and in a great location. The heart of Madisonville is only minutes from the entrance of the subdivision. In Madisonville, residents can eat, shop, enjoy the riverfront, and launch their boat in the Tchefuncte River or Lake Pontchartrain. The students are in a public school district that has some of the best educators in Louisiana. Your real estate value is protected and governed by restrictive covenants established by the homeowners association to restrict specific actions of residents to uphold a standard of quality and integrity.