Meadowbrook Homes
Meadowbrook Subdivision is located right off hwy 190 in the heart of Mandeville's retail and commercial real estate hub.  The private, gated neighborhood features tennis courts, a community pool, a large sports field, and Pelican Athletic Club at the entrance to the neighborhood.  These homes in Meadowbrook are situated on 395 wooded acres including lakes, green space, and recreational facilities.  The subdivision is in a great location due to its proximity to local retail shops, restaurants, major highways and I-12. There are restrictive covenants and architectural controls that govern the neighborhood in order to maintain uniform quality and integrity.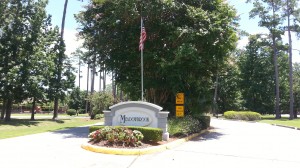 Mandeville, LA Real Estate
Tribute Real Estate offers both buyer and seller representation for those needing assistance in buying or selling a home in Meadowbrook.
Meadowbrook homeowners belong to the Mandeville School District which is a part of the St. Tammany Parish School Board System.  For public schools, parents send their kids to Mandeville Elementary School for k-3rd grade, Lake Harbor Middle School for 4th-6th grade, Fountainebleau Jr. High for 7th-8th grade, and Fountainebleau High School for 9th-12th grade.  The Mandeville public school districts pride themselves in being one of the best public education systems in Louisiana. For private Mandeville schools, parents have the opportunity to send their kids to Northlake Christian, St. Pauls, St. Scholastica Academy, Mary Queen of Peace, Lake Castle, and more.
The entrance of the neighborhood is gated and monitored by security guards to ensure safety and privacy of homeowners.  Also at the entrance is Pelican Athletic Club, which is a very large fitness club and all Meadowbrook homeowners receive a 50% discount on all registration fees.  Other recreational activities like tennis, swimming, and use of the sports field and playground are free to homeowners. The location is perhaps one of the biggest benefits of living in Meadowbrook. Homes are very close to great restaurants like Fazzio's, Coffee Rani, and N'Tini's as well as retail stores like Whole Foods, TJ Maxx, and local boutiques.
The great amenities Meadowbrook Subdivision provides are a big reason to consider looking here for homes for sale in Mandeville. The proximity to local attractions and restaurants is unmatched. The school district is the best public education in Louisiana. The outdoor recreational opportunities are plentiful with the multi-purpose sports field, swimming pool, and tennis courts. The neighborhood's integrity and quality remains because of the restrictive covenants homeowners are supposed to abide by.