Guste Island Homes
Guste Island is a collection of real estate properties including townhouses, single family homes in subdivisions, and luxurious waterfront homes in Madisonville, LA northwest of Madisonville Proper along Hwy 22. This residential complex boasts many great amenities like a large ball field, a community pool with a clubhouse, plenty of dedicated green space with beautiful swamp and marsh landscapes, a recreation facility, access to water, large ponds with fountains, a playground for children and a thriving community life. Residents belong to an award winning public school district, so parents can be confident their students are receiving the best public education in Louisiana. Guste Island allows homeowners to experience a quieter lifestyle away from the busyness of a city without sacrificing short commutes to local restaurants, retail shopping, and major roadways. The subdivision is located only 4 miles from the heart of Madisonville. Guste Island is protected and governed by restrictive deeds and covenants in order to retain the value of real estate and set a standard of integrity for all residents.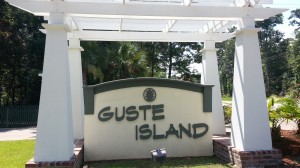 Madisonville, LA Real Estate
Tribute Real Estate offers both buyer and seller representation for those needing assistance in buying or selling a home in Guste Island.
Guste Island's diversified real estate portfolio makes the property appealing to buyers in any season of life. There are townhouses, single family homes, and large, luxurious waterfront homes along Lake Pontchartrain available to purchase all within Guste Island. Single family homes exist in the neighborhoods, Pines and Forest. Townhouses are available for purchase in Village and along Place Lafitte & Rue Du Sud, which are waterfront townhouses located along a channel off of Lake Pontchartrain. The luxurious, waterfront homes are located in the subdivision, Madisonville On The Lake. This neighborhood is a private, gated subdivision that boasts exclusivity, privacy, and beautiful, serene views.
Guste Island homeowners have the opportunity to enjoy many great amenities provided by the  subdivision. Guste Island has a large community pool and clubhouse available to rent for parties and events. Next to the community pool is a very large ball field equipped with a baseball backstop and playground for children. There is plenty of dedicated green space featuring majestic trees, large ponds with fountains, and marsh landscapes. There is also a recreation center located in Madisonville On The Lake. Guste Island is continuing to build and property values will remain high as demand for these homes are increasing. The value is protected by restrictive covenants and deeds. These covenants and deeds also set a standard of integrity for all homeowners to abide by.
Guste Island residents live within the boundaries of the St. Tammany Parish School Board. Students would attend Madisonville Elementary if they are entering K-1st grade. Lancaster Elementary is the school for those entering 2nd-5th. Students then attend Madisonville Junior High for 6th-8th grade. Finally, students finish their journey at Mandeville High school for 9th-12th grade. There are many choice if parents choose to send their children to private schools like Lake Castle, Christ Episcopal, Cedarwood, Mary Queen of Peace, Northlake Christian, and more. Private high schools include Northlake Christian, St. Paul's, or St. Scholastica Academy.