Greenleaves Homes
Greenleaves subdivision is a top-tier place to live in Mandeville, LA.  The neighborhood is located along hwy 190 across the street from Lakewood Heights. The other entrance is located along Lonesome Road across from The Lakes subdivision. Greenleaves prides itself on the natural beauty of the neighborhood. The subdivision features landscaped ponds with fountains, beautiful trees, park-like settings with gazebos, and 2.6 miles of walking trails. Greenleaves is even labelled a bird and wildlife sanctuary. The subdivision is in a great location as it is very near local restaurants, great retail shopping, and major roadways. Residents are required to abide by restrictive covenants in order to uphold the quality and integrity of the neighborhood.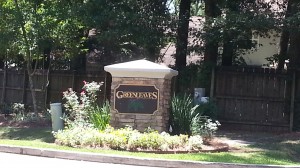 Mandeville, LA Real Estate
Tribute Real Estate offers both buyer and seller representation for those needing assistance in buying or selling a home in Greenleaves.
Greenleaves homeowners enjoy the natural beauty of living in Mandeville.  The landscaped ponds are great for fishing, feeding the ducks, or just enjoying the scenery.  There are several park-like setups throughout the neighborhood including gazebos, benches, and green space. The 2.6 miles of trails are perfect for jogging, biking, or walking the dog. There are numerous retail shops, restaurants, and attractions within walking distance or a short commute from the entrance of the subdivision.
Greenleaves is located in the heart of Mandeville near retail stores, local restaurants, and important roadways. Just north of the entrance along hwy 190 are retail stores like Whole Foods, Banana Republic, and American Eagle. Despite the presence of many corporate retailers, the small business boutiques and shops thrive in this northshore town. Great food is easy to come by due to Mandeville's proximity to New Orleans (35 miles). Some amazing, local restaurants include Liz's Where Y'at Diner, The Lakehouse, Rips on the Lake, Fazzio's Restaurant, and Nuvolari's. With entrances on hwy 190 and Lonesome Road, residents can easily access the Causeway Bridge and I-12.
Greenleaves is a great choice to consider when looking for homes for sale in Mandeville.  The subdivision can accommodate people in all seasons of life whether purchasers are looking for a single family home, condo, townhouse, or an apartment.  The serene settings and sense of community that this neighborhood provides is truly captivating.  The location and proximity to retail stores and restaurants make for short commutes to any destination. Your real estate investment in Greenleaves is protected by deeds and covenants.