Grand Oaks Homes
Grand Oaks subdivision is a new real estate development by DSLD Homes along Hwy 22 in across the street from Guste Island in Madisonville, LA. The subdivision is only minutes away from the small boating town of Madisonville, where residents enjoy shopping, eating, attending festivals, and watching the boats go by along the riverfront. These beautiful single family homes feature brick and stucco designs with wood floors and granite counter tops. The homes ranging in size (1,856-2,610 square feet) and in price ($230k-$290k). Residents of Grand Oaks live in a top tier public school district, so parents can know that their children are learning from the best. The subdivision provides amenities like green space featuring multiple ponds and majestic trees, a landscaped entrance, and big yards. Homeowners enjoy a high quality of life as the value of their real estate investment is protected by restrictive deeds and covenants, so that all residents enjoy a standard of quality and integrity.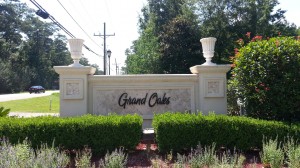 Madisonville, LA Real Estate
Tribute Real Estate offers both buyer and seller representation for those needing assistance in buying or selling a home in Grand Oaks.
Grand Oaks residents live within the boundaries of Mandeville High School, but they attend Madisonville schools until high school. Mandeville High is a nationally recognized Blue Ribbon School, which is an academic achievement award. If you want to enroll your children in public school, they would attend Madisonville Elementary if they are entering K-1st grade, Lancaster Elementary for those entering 2nd-5th, Madisonville Junior High for students in 6th-8th grade, and Mandeville High school for 9th-12th grade. If you are searching for private schools, there are many great options for every age group like Lake Castle, Christ Episcopal, Cedarwood, Mary Queen of Peace, Northlake Christian, St. Paul's, or St. Scholastica Academy.
Residents love the location of Grand Lakes because of its nearness to Madisonville Proper, Covington, and Mandeville. In Madisonville, residents love eating at Keith Young's Steakhouse, Morton's Seafood, Friends' Coastal Restaurant, and Abita Roasting Co. Many residents enjoy sitting along the Tchefuncte Riverfront and watching the boats go by on a nice afternoon. Residents can also launch their boat in the river by the bridge and at the end of Main Street. In Covington, homeowners enjoy shopping at Sam's Club, Target, and Best Buy. In Mandeville, students attend Mandeville High, and there is the Mandeville Lakefront, which is a beautiful lakefront park with gazebo's, majestic oak trees, and playgrounds.
Grand Oaks is a beautiful, new development and should be considered when looking for homes for sale in Madisonville, LA. These affordable homes were developed and built by the very credible, DSLD Homes. Homeowners enjoy the location because they are close to amazing, local cuisine, retail shopping, and they live belong to an award winning school district. The neighborhood has multiple ponds, a well maintained entrance, and a thriving community life. All residents are protected and governed by restrictive covenants and deeds that are in place to protect the value of real estate, and make certain that all residents are respected.