Fox Run Estates Homes
Fox Run Estates is a beautiful subdivision located along Sharp Road east of Rosedown Subdivision in Mandeville, LA. This wooded neighborhood provides homeowners with large lots, plenty of green space, and a landscaped entrance. Residents belong to an award winning school district, so parents can rest assured that their students are receiving the best public education in Louisiana. Fox Run is secluded, yet centrally located. The location allows for homeowners to enjoy the peace and solitude of living away from the hustle and bustle of a town without sacrificing the convenience of a short commute to local restaurants, schools, great retail shopping, and major roadways. Fox Run homeowners association has established a set of restrictive deeds and covenants to retain the value of real estate and to create a standard of integrity for all residents.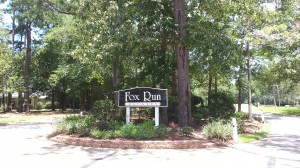 Mandeville, LA Real Estate
Tribute Real Estate offers both buyer and seller representation for those needing assistance in buying or selling a home in Fox Run Estates.
Fox Run Estates children and teens live in the Mandeville School District that feeds into Fountainebleau High School.  For parents desiring a public education, students attend Mandeville Elementary School if they are entering k-3rd grade. Students entering the 4th-6th grade would then attend Lake Harbor Middle School. Fountainebleau Jr. High is for students in 7th-8th grade, and Fountainebleau High School completes the journey for students entering 9th-12th grade.  While the Mandeville school districts provide an award winning education, private schools are still a very popular choice. For parents seeking a private school experience, students may enroll at Northlake Christian (co-ed), St. Paul's (all boys, 8th-12th), St. Scholastica Academy (all girls 8th-12th), Mary Queen of Peace (preK-7th), Lake Castle (preK-8th), and many more.
Residents love the location of Fox Run Estates because it is very convenient to drive to public schools, popular, local restaurants, major streets and amazing retail shopping. In Mandeville, there are plenty of retail giants like Whole Foods, Walmart, Barnes & Noble, and Banana Republic as well as a booming small business market for boutiques and shops. With New Orleans only 35 miles away, incredible local cuisine is everywhere. Some popular restaurants include N'Tini's, Rips on the Lake, The Lakehouse, Fazzio's Restaurant, and Liz's Where Y'at Diner. Sharp Road pours out onto Hwy 59 and Hwy 190, so The Causeway Bridge and I-12 are easily accessible for residents.
Fox Run Estates is a great place to consider when searching for homes for sale in Mandeville, LA. The subdivision provides plenty of desirable benefits. The location puts homeowners very close to award winning schools, delicious local restaurants, major roadways for commutes, and great retail shopping. The lots are bigger than the market average, and the lots are full of majestic trees and green space.  Fox Run Estates is governed by restrictive covenants, so that real estate values remain constant and the integrity of homeowners is upheld.