Forest Brook Homes
Forest Brook is a young and thriving subdivision in Mandeville, LA along highway 1088 east of Quail Creek. The neighborhood is in very close proximity to Interstate 12 as well as the new, up-and-coming developments surrounding exit 68 on I-12. Forest Brook homeowners enjoy beautiful ponds, a large playground, green space, and a pool and cabana area. Residents are expected to abide by restrictive covenants to uphold the quality and integrity of the neighborhood.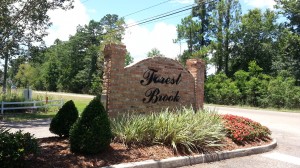 Mandeville, LA Real Estate
Tribute Real Estate offers both buyer and seller representation for those needing assistance in buying or selling a home in Forest Brook.
The location of Forest Brook homes is great. The entrance of the neighborhood is located very close to I-12, nearby schools, and commercial real estate developments along highway 59. Forest Brook is in position to be located in the middle of a very up-and-coming thriving area with new developments in construction now along highway 1088. The subdivision has many young families, and the community is incredible!
Forest Brook students attend Mandeville schools that feed into Lakeshore High School. For parents seeking public schools, students attend Magnolia Trace Elementary School for k-3rd grade. Mandeville Middle School teaches all students entering 4th-6th grade. Once middle school is completed, students travel to Monteleone Jr. High for 7th-8th grade. Lastly, students complete their journey at Lakeshore High School, which is very close to the entrance of the subdivision. The Mandeville public school districts provide some of the best educators in Louisiana. Though many choose the public school route, private schools are still a very popular option. If parents desire to send their students to private school, here are some options: Northlake Christian, St. Paul's, St. Scholastica Academy, Cedarwood, Mary Queen of Peace, Lake Castle, Christ Episcopal and more.
Forest Brook is a great place to look when considering homes for sale in Mandeville.  The subdivision is in one of the best public school districts in the state.  Residents enjoy a very short commute to I-12 and new commercial property developments popping up, restaurants and retail shops are near as well. Homeowners have beautiful, serene views of ponds, fountains, green space and wildlife. Forest Brook offers great amenities like a large playground area and pool/cabana area.