Flower Estates Homes
Flower Estates Subdivision
Flower Estates is a beautiful, relaxing neighborhood right off hwy 21 in Covington, LA and backs up to the Tchefuncte River. The subdivision is located on the opposite side of I-12 from Tchefuncta Club Estates. This neighborhood provides a rural ambience while located in a very rapidly growing and commercialized part of Covington.  Flower Estates' establishment dates back to over 50 years ago, and still remains today to be a great family friendly environment. The subdivision is very close to many desirable restaurants like Bacobar, Pardo's Bistro, and Ox Lot 9. I-12 is an extremely short drive from the entrance. Homeowners are full of integrity as the restrictive deeds and covenants are set in place to govern the actions of residents.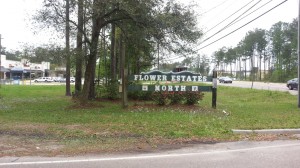 Covington, LA Real Estate
Tribute Real Estate offers both buyer and seller representation for those needing assistance in buying or selling a home in Flower Estates.
Flower Estates is divided in two by the Tchefuncte River.  Flower Estates North resides just north of St. Tammany Parish's main interior waterway, and the southern portion is south of the river.  Both parts of the neighborhood are accessible by hwy 21 and have waterfront properties available.  The lot sizes for Flower Estates homes for sale are generally bigger than most in the area, which provides families the ability to raise chickens and other livestock.
The location to surrounding areas is perhaps one of the neighborhood's main advantages.  Flowers Estates is a very short drive to St. Tammany Parish Hospital and surrounding medical facilities.  The entrances are within 1 mile of I-12.  In the opposite direction, Flower Estate homeowners experience about a seven minute drive to Downtown Covington.  The District of St. John has become a hub again for food, drinks, and entertainment for Northshore homeowners thanks to the revitalization process directed by the Mayor of Covington, Mike Cooper.
Flower Estates is a very unique neighborhood in the heart of Covington because of its big lots, proximity to surrounding attractions, medical facilities, I-12, and availability of waterfront homes along the Tchefuncte River.  Homeowners can experience a more rural, quiet lifestyle in the midst of an area that is thriving and becoming increasingly more commercialized. Flower Estates protects the value of real estate by establishing restrictive deeds and covenants.