Deerfield Homes
Deerfield subdivision is a beautiful, gated neighborhood located along Lonesome Road just south of Oak Island in Mandeville, LA. Deerfield provides homeowners with privacy, seclusion, and peace of mind with the landscaped gated entryway. The neighborhood also allows for homeowners to enjoy great amenities like a community pool and cabana, plenty of green space with beautiful, majestic trees to block the noise of Lonesome Road, and an ideal location in the center of Mandeville. The location of the neighborhood gives residents short commutes to schools, retail shopping, local restaurants, and major roadways. Kids and teens attend award winning schools, so students learn from some of the best teachers in Louisiana. Deerfield is governed by restrictive deeds and covenants, so that the value of real estate is upheld and a standard of integrity is achieved.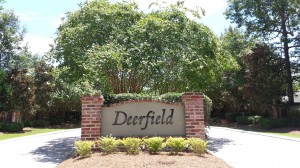 Mandeville, LA Real Estate
Tribute Real Estate offers both buyer and seller representation for those needing assistance in buying or selling a home in Deerfield.
Deerfield kids and teens who attend public schools live within the boundaries of the St. Tammany Parish School Board. This public school system has received many awards for academic achievement. Students entering K-3rd grades attend Mandeville Elementary School. Lake Harbor Middle School, which is very close to the entrance of the subdivision, is for those entering 4th-6th grades. Fountainebleau Jr. High and Fountainebleau High School are great schools for teens entering 7th-12th grade. Despite having some of the best public education nearby, still many choose to send their students to private schools like Northlake Christian (pre-K-12th), St. Paul's (all boys), St. Scholastica Academy (all girls), Mary Queen of Peace (pre-K-7th), Lake Castle (pre-K-8th), and more.
Deerfield's location is very desirable because of its nearness to public schools, delicious, local restaurants, major roadways and great retail shopping, including both nationwide brands and small businesses. Mandeville's economy is booming due to the presence of many big retail stores like Whole Foods, Barnes & Noble, and Banana Republic paired with plenty of small, local boutiques and shops. It is very easy to spot many of the delicious, local restaurants like N'Tini's, Megumi Sushi, Fazzio's Restaurant, and Nuvalari's. The subdivision is not far from major roadways like Hwy 59, Hwy 190, The Causeway Bridge, and I-12. The Causeway Bridge is the main means of transportation to New Orleans across Lake Pontchartrain for many commuters.
You should consider Deerfield when looking for homes for sale in Mandeville, LA. Students receive a public education in an award winning school district. The location is nearly unbeatable due to its proximity to schools, retail shopping, local restaurants, and major roadways. Homeowners enjoy great amenities like a beautifully landscaped, gated entrance to preserve peace and privacy, a community pool and cabana area for hot summer days, and plenty of green space full of majestic trees. The value of real estate and integrity of homeowners is maintained through restrictive deeds and covenants initiated by the homeowners association.