Brookstone Homes
Brookstone is a beautiful subdivision located along Dove Park Road near Westwood Estates in Covington, LA. This neighborhood features large, luxurious homes on wooded lots. Brookstone provides residents with beautiful scenery with their majestic trees, ponds, dedicated green space, and a landscaped entrance. While there is no accommodation for a community pool and cabana, most homeowners have built-in pools in their backyards. The neighborhood has not yet reached full capacity, so there are even some wooded lots remaining for potential residents to build on. Student residents attend schools in an award winning school district. The value of real estate in Brookstone is protected by established covenants and deeds restricting specific actions and conduct of residents. The neighborhood really tries to maintain a level of integrity and quality of life.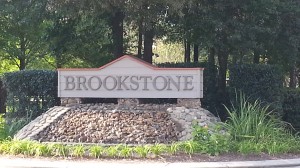 Covington, LA Real Estate
Tribute Real Estate offers both buyer and seller representation for those needing assistance in buying or selling a home in Brookstone.
Brookstone's location is very convenient for commuters who frequently travel along I-12, Highway 190, and the Causeway Bridge. The neighborhood is nestled back in the woods away from the busyness of an economic hub and commercial real estate, though it is not far from major retail stores and restaurants. Residents are a short distance from Whole Foods, Bed Bath & Beyond, Walmart, Banana Republic and more! Popular local restaurants include Osaka West, Fazzio's, N'Tini's, Bosco's Italian Restaurant, and Rips on the Lake. Schools, particularly Fountainebleau Jr. High and Fountainebleau High, are also very near to the entrance. From Dove Park Road, residents can access Hwy 190 and Hwy 59 easily.
Student residents of Brookestone attending public schools are enrolled in feeder schools that lead to attending Fountainebleau High School. For elementary school, students first attend Mandeville Elementary School for k-3rd grade. Middle school students attend Lake Harbor Middle School for 4th-6th grade. Then, students attend Fountainebleau Jr. High for 7th and 8th grade.  Lastly, for high school, students enroll at Fountainebleau High School for 9th-12th grade.  The Mandeville public school district is nationally recognized for having multiple Blue Ribbon Schools. For parents looking for private Mandeville schools, they have the opportunity to enroll their kids various schools like Northlake Christian, St. Paul's, St. Scholastica Academy, Mary Queen of Peace, Lake Castle, and more.
When searching for homes for sale in Covington, LA, Brookstone subdivision is an excellent choice to consider. Residents are located within the boundaries of award winning schools. The neighborhood provides homeowners with a beautifully landscaped entrance, dedicated green space, beautiful scenery, and peace of mind. The area is a short distance from local restaurants, retail shopping, important roadways, and desirable destinations. The value of real estate invested by homeowners is maintained through restrictive deeds and covenants.