Bedico Creek Preserve Homes
Bedico Creek Preserve is a gorgeous, new real estate development located along Highway 1085 north of the Villages at Bocage in Madisonville, LA. Residents are first greeted by a beautifully landscaped and well maintained gated entryway. The gate ensures privacy and exclusivity for homeowners, so they may obtain peace of mind and feel safe. One of the main attracting features of Bedico Creek Preserve is that homeowners are surrounded by over 500 acres of dedicated green space, parks, ponds, lakes, and natural areas. The entire property encompasses over 1000 acres and 60% of that dedicated to green space and recreational parks. The development currently consist of nine distinctly different subdivisions ranging in home sizes and prices. Bedico Creek has homes available for any season of life with prices ranging from $230,000 to over $1 million and lot prices as low as $45,000 to as high as $250,000. In order to protect and maintain the value of real estate property, the neighborhood has established restrictive deeds and covenants.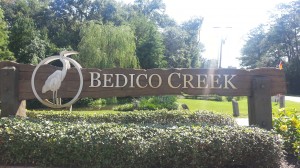 Madisonville, LA Real Estate
Tribute Real Estate offers both buyer and seller representation for those needing assistance in buying or selling a home in Bedico Creek.
Student residents of Bedico Creek are in the boundaries of Mandeville High School and its Madisonville feeder schools. Parents seeking public education enroll students at Madisonville Elementary for K-1st grade and Lancaster Elementary for 2nd-5th grade. Madisonville Junior High includes students entering 6th-8th grade.Lastly, students complete their journey at Mandeville High school for 9th-12th grade. If you are looking to send your students to private elementary schools, you may choose from schools like Lake Castle, Christ Episcopal, Cedarwood, Mary Queen of Peace, Northlake Christian, and more. There are also great private high schools in the area like Northlake Christian, St. Paul's, or St. Scholastica Academy.
Bedico Creek Preserve offers their residents many amazing amenities. Built into the 500 acres of green space and wildlife habitat is 3.5 miles of concrete trails available for use by bikers, hikers, joggers, and walkers complemented with an easy to navigate master trail plan or map. Residents also enjoy the use of an outdoor fireplace, fishing in numerous ponds, camping, a community pool, open air cabana, 375 acre Nature Preserve, and 200 acres of parks and green space featuring a playground, fishing pier, and a disk golf course. Bedico Creek even provides homeowners with storage for boats and RV's. The streets are also golf-cart friendly, so residents may enjoy evening rides throughout the subdivision with family. The neighborhood has so much to offer its residents physically, but even the intangibles are incredible. The peace of mind that comes with living around such beautiful scenery and knowing that your privacy and safety is protected by a gated entrance.
Bedico Creek Preserve is a wonderful, new development with lots to offer. This neighborhood should be considered when you are looking for homes for sale in Madisonville, LA. Residents belong to one of the best districts for public education in Louisiana. The amenities provided by the subdivision are plentiful. Homeowners enjoy the pleasure of taking in serene views of 375 acres of nature, walking along the 3.5 miles of trails, fishing in the numerous ponds, playing disk golf, and swimming in the community pool. Bedico Creek is really a subdivision for any season of life with new, beautiful homes ranging in size and price to fit any budget. Homeowners' investment in real estate is protected by restrictive deeds and covenants, so that a uniform standard of quality and integrity is achieved.