Beau Rivage Homes
Beau Rivage is an established subdivision located along West Causeway Approach right next to The Sanctuary in Mandeville, LA. The wooded subdivision features 232 homes with two entrances, W Causeway Approach and Highway 22 via Heavens Dr. Beau Rivage was established in the mid 1990's with the first phase of construction. The neighborhood is conveniently located near award winning schools, great local restaurants & retail stores, and within 2 miles of the Causeway Bridge. Residents belong to an award winning school district, so kids receive the best public education in Louisiana. Homes in the neighborhood sell, on average, for about $270,000. Beau Rivage is governed and protected by restrictive deeds and covenants in order to uphold a uniform standard of quality and integrity for all residents.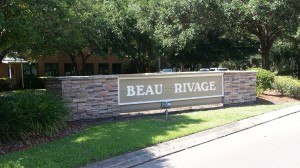 Mandeville, LA Real Estate
Tribute Real Estate offers both buyer and seller representation for those needing assistance in buying or selling a home in Beau Rivage.
Beau Rivage students attend schools in the St. Tammany Parish School Board System. For this location, the feeder schools lead to Mandeville High School. Parents looking to enroll students in public school first start out attending Pontchartrain Elementary School for k-3rd grade. Tchefuncte Middle School, which is actually attached to Pontchartrain is for students in 4th-6th grade. Mandeville Jr. High, located in Old Mandeville, is for students entering 7th-8th grade. Lastly, Mandeville High School, located 1 mile from the entrance along W Causeway Approach, is for all students in 9th-12th grade. Mandeville public school districts have won many national academic achievement awards. Still some families choose to use private schooling. To accommodate this preference, parents have the opportunity to enroll children into Northlake Christian, St. Paul's, St. Scholastica Academy, Mary Queen of Peace, Lake Castle, and more.
The location of Beau Rivage is perhaps one of the best aspects of living in the subdivision. Residents can enjoy great nearby restaurants like Megumi, Times Bar & Grill, Liz's Where Y'at Diner, and Fazzio's. Three of the four schools mentioned above are within a mile of the entrance of the neighborhood. There are great retail stores nearby as well like Rouse's Supermarket, Whole Foods, and numerous local boutiques. The Causeway Bridge is within two miles of the entrance of the subdivision, and only two stoplights exist along the way. This is an ideal location for frequent Causeway commuters. Beau Rivage is also close to the Mandeville Lakefront, which allows visitors to enjoy beautiful Oak trees along the waterfront.
Beau Rivage is a great subdivision to consider when searching for homes for sale in Mandeville. These homes are affordable and in a perfect location. Residents belong to the best public school system in Louisiana. The subdivision is heavily wooded and nicely landscaped. Beau Rivage homeowners experience very short commutes to the Causeway, nearby retail stores, and great local restaurants. The integrity and quality of the neighborhood is upheld by restrictive covenants and deeds.